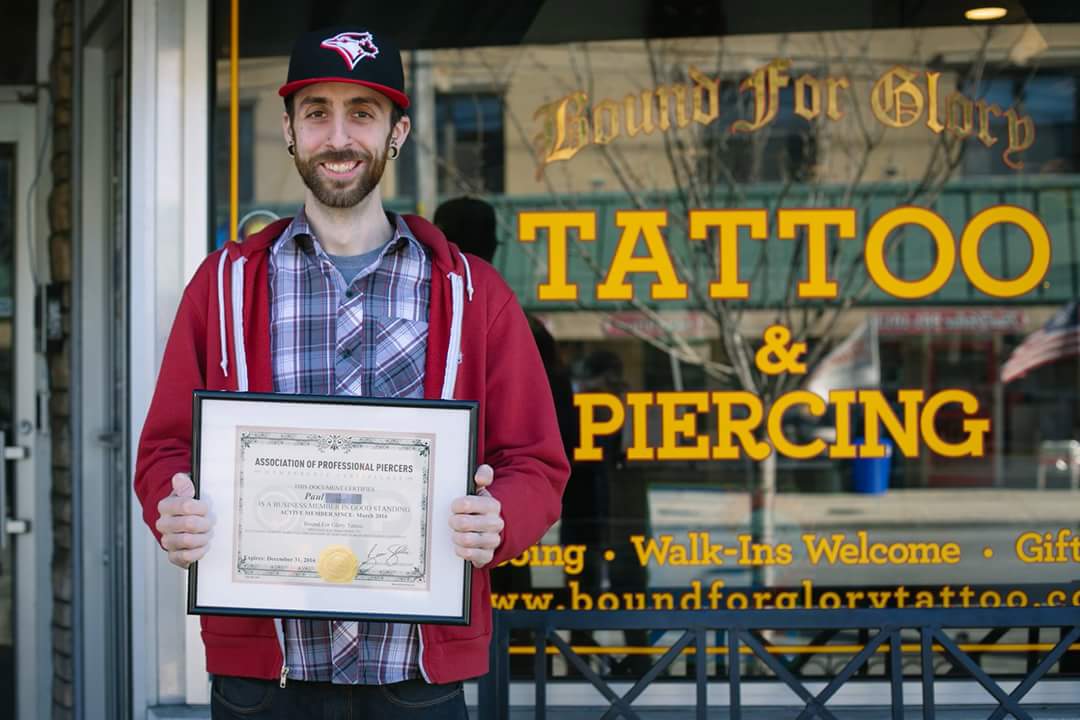 It seems like only yesterday, but in fact it was 12 years ago that I was sitting at work scrolling through ringsofdesire.com. I remember a section where Elayne Angel recommended piercers. She couldn't suggest anyone from New York City because at the time, no one was a member of the Association of Professional Piercers.
I never thought that I'd be the first member here in NYC. To tell you the truth, if you would have asked me back then if it was likely that I'd become a member at all, I would have told you no. There is a long list of requirements to become a member of the APP and now, I better understand why that's the case. Back then, I only knew one thing: I loved what I did for work. I stuck with it knowing that one day I would fall into the right situation. It's always been impossible to imagine me doing anything else for the rest of my life.
Fast forward to 2014 : I took a job at Bound for Glory after a too-long tenure at a previous shop. My professional life was instantly changed. I went from working in a shop with only one tattoo artist to working with 6 incredibly talented artists. The shop was always buzzing. I was busy adding to my clientèle and was getting the opportunity to meet amazing guest artists when they passed though the shop. The whole situation was surreal and it quickly became motivation for me to be better. It was here, through the shop's owner, Nick Caruso, that I met Billy Wood, Jr. We talked about what I needed to do in order to become a member of the APP. He offered me some constructive criticism and very helpful feedback. Within a matter of weeks, I made the necessary changes to my workspace. It was so exciting to add the extra upgrades I wanted – (hands-free everything!!). The tweaks to my room definitely made my life as a piercer so much easier, but the most valuable advice Billy gave me was to apply for a scholarship to attend that year's APP Conference.
I was fortunate to get a scholarship thanks to J.D. Lorenz, Caitlin McDiarmid, Kendra Berndt, and Ryan Ouellette. Industrial Strength funded the scholarship and Caitlin, Kendra, and Ryan had the daunting task of choosing the recipients. Somehow, I was picked as the 2015 APP Conference's Shannon Larratt Scholar. My first conference was so eye opening. I met countless people and learned a ton of stuff. I returned home from conference even more motivated to learn and meet other professionals in the industry. Immediately following the conference I attended more seminars, including the first ever Fakir Comprehensive Piercing Intensives in San Francisco. The past couple years have been nothing short of amazing. I am so blessed to call this my job and I am, as always, looking forward to the bright future ahead.
Only 82 more days till the 2016 Conference guys!!
EDIT: lately I've been doing more research on body piercing. I will still leave this post up. I was told as I was applying by numerous people that I would be the first in NYC. I am aware of the studios that we're here prior to myself (Gauntlet, Gotham, Modern American Bodyarts) moreso Gotham which operated out of East Side Inc. and later DV8 in Manhattan. My piercer was trained by Brian Murphy so I do know a bit about New York City piercing in the 90s. It is my belief that Keith Bonanno was the first official APP member in NYC. If I am still wrong about this please let me know. Once again I am sorry if I offended anyone or upset anyone. It was never my intention. Thanks.
---
---